How Much Does a Bueno Spa Hot Tub Cost in 2023?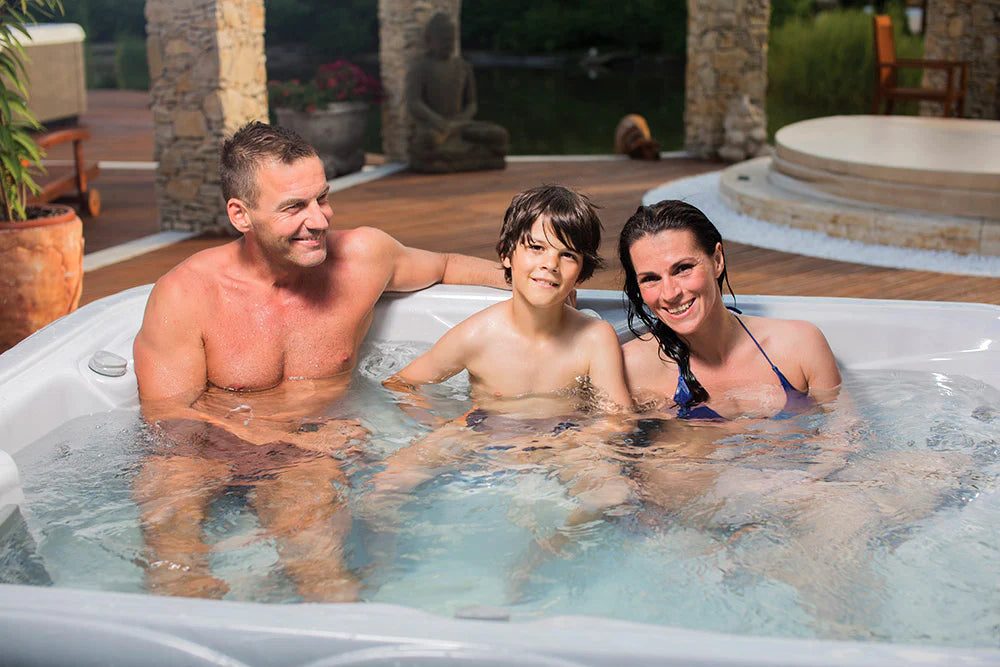 How much does a BuenoSpa hot tub cost?
Before you make the investment, learn about the average cost of a hot tub, some of the modern features found in newer hot tub models, and which factors influence the price. You might be surprised at how much value you can find in a BuenoSpa hot tub.

What Can Influence Your Hot Tub Cost in 2023?

Many factors are influencing hot tub prices, such as the economic crisis, the rise in the price of raw materials, and the pricing policies of competitors. So, if you're looking to buy a BuenoSpa hot tub, you first need to understand what features you want, where you're planning on placing your hot tub, and how you want to use it. Certain models are better for entertaining large groups, while others are perfect for relaxation and therapeutic use.
Understanding what you want will help you get an accurate gauge of how much you'll need to spend.
BuenoSpa's premium models have features such as energy-saving pumps, water sanitizer, color therapy lighting, aromatherapy, and powerful jets. So, how much does a BuenoSpa hot tub cost in 2023? Let's review in detail what influences hot tub prices.

Here are the three main factors, that you have to examine before you decide:

Materials

Mainly, you can choose from three materials for the hot tub shells. These are acrylic, plastic, and wood. The most common material is the acrylic shell hot tubs, but they are the most expensive ones as well. These models are mostly insulated, which makes them durable and energy-efficient. Wood hot tubs last a long time but require lots of maintenance not just yearly. Plastic tubs could be a good choice if you are on a budget, but they're not well insulated, and their long-term operating costs could be much higher, than the wood and the acrylic ones.

Size

If you want to have a large hot tub, you have to pay. An inflatable hot tub might cost $4,000, while a 6-person hot tub or 8-person hot tub can cost upwards of $25,000.

Features

The type of water features could increase your costs, not just when you buy it, but if you use the hot tub often.

So, to answer how much does a BuenoSpa hot tub cost - it depends. Features, size, and materials are the most important factors, that affect how much your perfect hot tub will cost.

Average Hot Tub Cost in 2023

Buying a hot tub is an investment, but costs will vary. Most people pay between approximately $10,000 - $20,000.

A smaller, two-person hot tub like our Atalanta hot tub, can cost as little as $7,999 ($4,399 on sale)

If you decide to have an in-ground hot tub, the unit can cost between $15,000 and $20,000, which does not include installation and maintenance.

It's also worth mentioning the fact that additional costs may be added when you want to purchase a BuenoSpa hot tub. These are delivery fees, installation charges, electrical setup, accessories, and ongoing maintenance expenses. These factors can contribute to the overall cost of owning a hot tub.

Above-Ground vs. In-Ground Hot Tub Cost

If you decide to have a hot tub, you could choose between above-ground or in-ground versions. Mostly, above-ground hot tubs are more affordable than in-ground ones. Average hot tub installation fees range from $1,000 - $16,000 depending on your area, where you'd like to place your hot tub, and the design of the surrounding area. This fee depends on your local hot tub store.

In-ground hot tubs are more expensive than above-ground placement. In-ground hot tub costs vary significantly depending on factors like customization, size, materials, brand, and of course the complexity of the installation.

The choice between an above-ground and in-ground hot tub depends on your preferences, budget, available space, and the additional installation and building costs and landscaping. Above-ground hot tubs are easy to install, and more affordable, while in-ground hot tubs are more luxurious and customized, which expects a higher cost.

Above-Ground Hot Tub Installation Costs

If you decide on an above-ground hot tub, expect a lower installation cost. There are some options, such as an inflatable hot tub or a plug-and-play hot tub, which you can easily install yourself. Other things, like installing plumbing or electricity will also increase your costs and should be done by professionals.

In-Ground Hot Tub Installation Costs

In-ground hot tub installation often starts at $16,000 and increases depending on the size, placement, and surrounding area. This type of installation requires the help of experts, which makes it more expensive. However, the end product looks much more finished and luxurious than simply plugging in an above-ground hot tub.

Indoor vs. Outdoor Hot Tub Costs

Yet another factor influences how much it costs to run a hot tub: placement. You'll need to decide whether you'd like an indoor hot tub or an outdoor hot tub.

The price difference between indoor and outdoor hot tubs vary based on several factors:
1. Installation and Construction:
Indoor hot tubs may involve more complex plumbing and electrical work to ensure proper ventilation, moisture control, and structural support. You also have to make enough space for the hot tub inside your house or wellness center. To comply with safety standards you will need to install anti-slip material on the floor.
Outdoor hot tubs may also require site preparation ranging from excavation to electrical wiring. You will also need a pergola or a sunshade, to make it private. Installing an outdoor hot tub generally involves a simpler installation process, but you do still have to take time to plan for the perfect setup.
2. Maintenance and Accessories:
Both indoor and outdoor hot tubs require maintenance, but if you choose the outdoor version, you have to think about weather conditions. Outdoor hot tub owners may have to invest on accessories like covers and windbreakers to ensure the longevity of the hot tub
Indoor hot tubs may require specific maintenance considerations like air quality and humidity controls, proper drainage systems, and appropriate chemicals which could increase the cost of maintenance fees.

How Much Does it Cost to Run a Hot Tub?

Don't be surprised when your electricity bill increases after running your new BuenoSpa hot tub. It could add about $30–$100 per month to your electrical bill, depending on the model, size, and frequency of use. If you want to keep monthly expenses at a minimum, choose BuenoSpa. Our hot tubs are known for energy efficiency, smart control features, and advanced insulation design.

Another way to reduce energy costs while running your hot tub is to make sure the hot tub is installed properly. Even if you opt for a P&P hot tub, be sure to have an electrician test the electrical connection and GFCI setup.

Life Expectancy of Hot Tubs

The lifespan of a hot tub averages 5 to 20 years, which depends on the frequency of use, placement, maintenance, and of course the quality of the hot tub. If you keep your hot tub well-maintained, you will enjoy it for many years. Less maintained hot tubs will deteriorate faster, so it is worth paying attention to factors such as filter replacement, dosing of cleaning chemicals, or changing the water frequently.

Entry-Level Hot Tub Cost in 2023

If you are looking for an entry-level hot tub, BuenoSpa offers beautiful selections to choose from if your budget is between $7,999 – $10,999. All of our models are under $10,999, you can buy a 6-seater model, Dallas for only $5,999 on sale ($10,999 full price), or enjoy the jets in a BuenoSpa Jersey hot tub for only $4,699 on sale ($8,799 full price).

Where Can I Find a BuenoSpa Hot Tub?

If you want the best of BuenoSpa, choose from our outstanding models, and order it today! We are on the Wayfair, Amazon, The Home Depot and Overstock. Our hot tubs will bring the thrill of advanced hydrotherapy and easy ownership maintenance home to stay, you'll wonder how you ever lived without such a wonderful asset.