2-Person Bueno Spa Hot Tub Ultimate Guide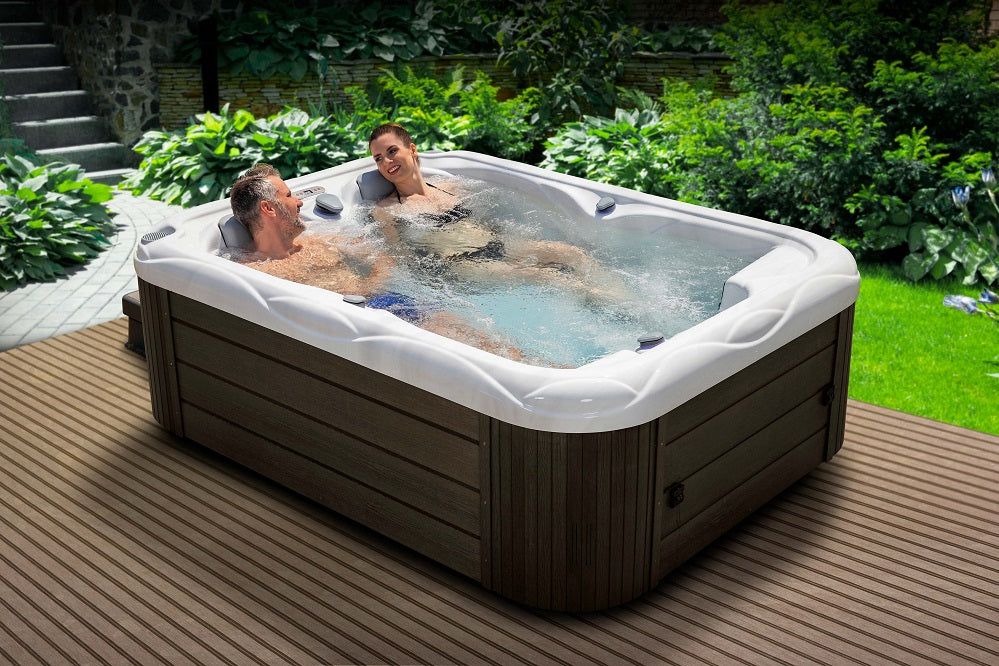 An intimate relax in your 2 person BuenoSpa hot tub is worth noting. Imagine, you are under the stars with your partner, drinking some fine wine, and enjoying the water. Every moment like this completely recharges you, not to mention you get to spend quality time with your partner without absolutely doing nothing. A 2 person hot tub is the best decision, if you have 1 kid, don't have a big family, and want to buy a small relaxing machine, which you can use all time of the year. It has several benefits, so let's get to know this kind of hot tub a little better.
What you have to know about 2 person BuenoSpa hot tubs
A 2-person BuenoSpa hot tub is a smaller-sized spa designed to comfortably accommodate two adults or 2 adults and one child. There are several factors that you can get to know, before you buy the best for your needs.
Size and Shape:
The biggest advantage of the 2-person BuenoSpa hot tub is that it fits in an extremely small space. If you only have a small garden or terrace, you don't have to worry either, as it has compact dimensions. It can be perfect for a couple or a family with just one child who wants to relax a little during everyday life. The shape of a 2-person hot tub can vary, but common options include round, square, rectangular, or even heart-shaped designs.
Seating:
The hot tub is mostly equipped with two built-in seats or loungers designed to provide comfort and support. Of course, you could also find different versions on the market, for example a hot tub with two seats and a lounger, but it is already considered a 3-seater. The seats may feature contoured designs, cushioning, or ergonomic shapes for optimal relaxation. Some models may also offer adjustable seating options to cater to individual preferences. This size hot tub is not very big, but it is just enough for you and your partner, or perhaps your small child, to feel good every day of the year.
Jets and Massage Features:
Many people think that because of the size of the 2-person hot tubs, it does not have as much equipment and does not give the same massage experience as the larger versions. Despite its smaller size, these kinds of hot tubs often include a number of jets strategically placed throughout the seating area to provide a soothing massage experience. The number and type of jets can vary, but they are typically adjustable, allowing you to customize the water pressure and direction of the massage. In addition, you can get your new hot tub with different kinds of equipment such as color therapy lighting, exclusive LED lights, or a cool audio system.
Controls and Features:
As we have already mentioned, countless cool features can be in a 2-seat hot tub. It has controls accessible from within the tub, allowing you to adjust settings such as water temperature, jet intensity, and lighting options. The small hot tub is easy to use, it doesn't require a lot of expertise, you just have to press a few buttons and you can already enjoy the light massaging effect of the water.
Material and Construction: Small hot tubs are just as resistant and made of solid material as their larger counterparts. Two-person hot tubs are commonly made of materials like acrylic, which is known for its resistance to cracking, fading, and discoloration. The tubs often have sturdy shells, insulated covers, and a combination of foam insulation and efficient heating systems to maintain water temperature and conserve energy. Thanks to this, these wonderful, comfortable models, which despite their small size, are extremely durable, can be used for several years or even decades.
Installation: Because they are small, their installation still requires the same expertise, so don't start it by your own home alone.Two-person hot tubs can be installed both indoors and outdoors, depending on your preference and available space. Thanks to its dimensions, you can even place it in your bathroom, or a small terrace can be the perfect place for its installation. They can be freestanding units or built into a deck or patio.
Safety and Maintenance:
You will need the same treatment method for a 2-person BuenoSpa hot tub as if you were securing a larger version. Like any hot tub, safety features such as slip-resistant surfaces, grab handles, and proper electrical grounding should be present, which purchase you should entrust to a specialist. Maintenance typically involves regular water care, cleaning, and filter replacement to ensure hygiene and optimal performance. If these are missing, the hot tub will easily become dirty and unusable, and its lifespan will also be greatly reduced so make time for it every week.
Remember that specific features, designs, and options can vary across different manufacturers and models of two-person hot tubs. When considering purchasing a hot tub, it's always a good idea to consult the manufacturer's specifications and consult with a reputable dealer to find the best fit for your needs.
BuenoSpa has a 2-person hot tub as well, called the Atlanta. The two reclining lounges in the Atlanta hot tub, positioned next to each other, ensure excellent relaxation for couples. The design of the MySeat™ place eliminates inconveniences caused by differences in height. Due to its 29.5" height, this hot tub easily fits through a normal front door.
When designing our Atlanta outdoor hot tub, we consciously focused on the physical and mental characteristics of the users. The individually adjustable neck massage jets help in relaxing not only the shoulders and the nape but the sternomastoid and trapezius muscles as well. Thus, all You have to do after a demanding, stressful day is relax in your personal spa and let the special jets refresh your body. Among the 37 jets of the model are several leg massagers and numerous jets ensuring whole-body relaxation.


A 2-person BuenoSpa hot tub gives you a more intimate, more cozy and more romantic spa experience. Let's see the best advantages of this kind of spa equipment:
Intimacy and Bonding:
A larger hot tub may be more comfortable, as you and your partner have more space to relax, but it does not offer the intimacy of a 2-person hot tub. A two-person hot tub provides an opportunity for couples or close friends to spend quality time together in a very relaxing environment. The smaller size of the tub encourages conversation, connection, and intimacy, and you could get to know each other more, if you spend some time in two. A long conversation over a glass of wine can bring you closer, no matter what your relationship is.
Privacy:
Have you ever been sitting in the wellness section of a hotel with your partner, and then a stranger couple or a couple of other people joined you? This cannot happen if you have your own hot tub and it is only for two people. With a 2-person BuenoSpa hot tub, you can enjoy a private soak without the need to share the space with strangers or others. This can be especially appealing if you value your privacy or prefer a more personal experience. Fortunately, many hotels provide a private hot tub experience and countless hotel rooms can be booked with built-in hot tubs.
Space and Portability:
In the case of a 2-person BuenoSpa hot tub, installation and transportation must also be considered, but it is much easier to do all of this than in the case of a 5-6 person hot tub. Two-person hot tubs are typically smaller and more compact compared to larger models. This makes them suitable for smaller outdoor spaces or indoor installations, where space may be limited. The compact size also contributes to easier portability and relocation if needed. You may move it to the other corner of the terrace in a couple of years, while in the case of a larger model you will think twice about changing the location.
Cost and Energy Efficiency:
Now that energy prices have skyrocketed and water needs to be saved, everyone is thinking about what kind of hot tub to buy. Smaller hot tubs generally require less water, fewer chemicals, and consume less energy to heat and maintain the desired temperature. This can result in lower operating costs compared to larger hot tubs, and two-person hot tubs have the same relaxing spa experience than the 5-6 person ones. In addition, energy-efficient models are now very common on the market, which save even more energy in smaller versions.
Versatility:
People can easily think that a smaller hot tub comes with fewer features. Despite their smaller size, 2-person hot tubs often offer similar features and functionalities which can be found in larger models. These may include adjustable jets, lighting options, built-in seating, temperature controls, audio systems and even additional massage features. This allows a customizable and enjoyable spa experience for you and your family. Choose the one that has the most features for you and get it at a good price.
Health and Relaxation:
Hot tubs, in general, provide a range of health benefits such as stress reduction, muscle relaxation, improved circulation, and relief from aches and pains. With a two-person hot tub, you can still enjoy these benefits while sharing the experience with someone else.
Price:
It is clear to everyone that a two-person hot tub takes less space than larger versions. While the price of a 5-6-person hot tub can reach up to $17,000, a two-person hot tub ranges from $5,000 to $10,000. Of course, accessories like covers, handles and the steps can greatly increase the total amount, but you are still better off if you buy a smaller hot tub.
It's important to note that the specific benefits may vary depending on the model and features of the hot tub you choose. It's always a good idea to research and consider your specific needs and preferences before making a purchase.