BuenoSpa hot tubs in your garden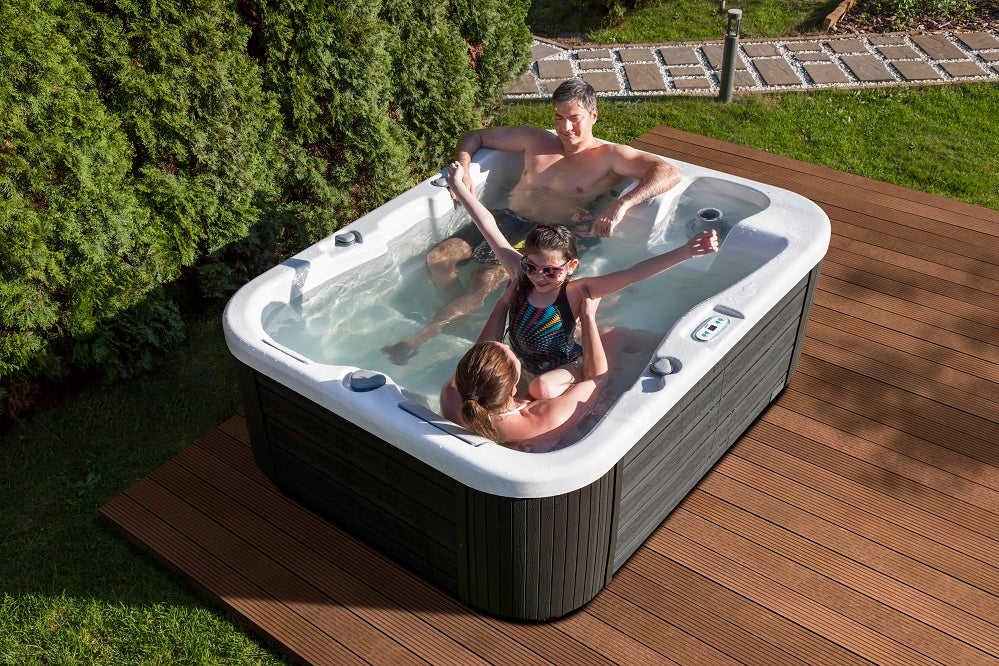 How to create an intimate and comfortable environment in your backyard?
The outdoor use of a BuenoSpa hot tub is deservedly popular, as outdoor bathing under the stars creates a particularly intimate, romantic atmosphere. In addition, it is not a problem in winter, if you are outside, in fact, it is often even more pleasant to soak in hot water in cool weather. However, you should keep a few things in mind if you want to create the perfect hot tub conditions. In our article, we have provided the most important information about the installation and use of outdoor BuenoSpa hot tubs!
Perfect surface
The first step is to create a suitable surface. As swimming pools, hot tubs also require a perfect level, even ground. It is recommended to place the hot tub on a concreted or somehow paved surface, as well as to pave the immediate surroundings of the pool and the access lane, so that you do not have to walk on the grass when entering or exiting the hot tub.
Placing the BuenoSpa hot tub on the terrace can be an ideal choice, where the proximity of the house makes it convenient to use, and in this way the hot tub is close to the social space.
Roof
When deciding whether to have some kind of roof over the BuenoSpa hot tub, there are a few things to consider. The open sky creates a truly romantic environment on starry evenings. However, in winter, in rainy weather, the precipitation can also wet our hair, which leads to colds. Following the mood of the garden, it may therefore be worthwhile to build some kind of protection towards the pool, or to stay at the terrace, where the overhang of the roof provides protection, but does not completely cover the view.
Water and electricity
Water and electricity are required for the hot tub. The latter should be built with the help of a professional, even before the perfect surface is made, since the hot tub cannot be plugged directly into the outlet.
The water causes fewer problems outdoors, you can let it out on the grass, use it for watering and washing cars. However, you must keep in mind that water replacement is also necessary in winter when the garden taps are usually closed.
It is important that keeping the water warm accounts for the largest share of the operating costs of the hot tub. Therefore, it is recommended to use a thermal roof outside, and the insulation capacity of the hot tub must be kept in mind.
With BuenoSpa hot tubs, you can create an everyday oasis in your garden! Entrust the installation of the hot tub to us!